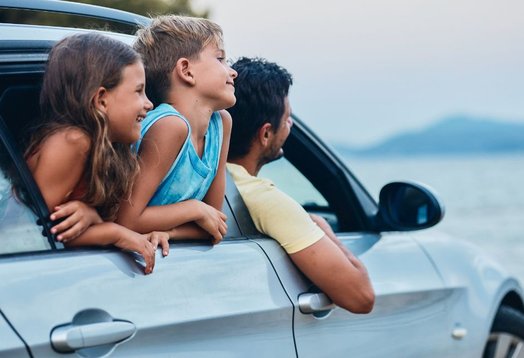 Choosing your new ride.
Been thinking about buying a car?
We've come up with some top tips to look out for before and after you make the big purchase!
Step One: What do you need, and what's your budget?
The first step is being clear on what you're after. Consider things like:
What size or type of car do you want - do you need room for kids or dogs? If you're into camping, kayaking or other sports, you're probably going to want a car with decent boot space for hauling your gear around. Or are you after something small and economical for commuting most of the time? Thinking about how you'll be using the car will help you decide the most suitable car type for you.
If you're thinking of going hybrid or full EV, check if you'd be eligible for a Clean Car Discount.
What's your budget? Be realistic about what you can afford for the purchase as well as future costs like insurance, petrol, maintenance, warrant and registration. If you need a car loan, why not apply for a preapproval so you know your maximum purchase price and can buy it as soon as you've found the right one.
---
Step Two: Research and compare
You've got an idea of what you're after and can afford… time to narrow it down!
Like any big purchase, it's worthwhile researching and exploring different options so you can make an informed decision.
There's a lot of useful info available online, so Google is your friend! Explore different car brands and models that fit your needs (and budget), read the reviews, compare the features, and look at the fuel efficiency and overall performance. You can check out car safety ratings at www.rightcar.govt.nz.
Search for any known common issues or annoyances with any cars you add to your shortlist, and chat with friends, whānau or colleagues you trust for guidance and advice.
---
Step Three: Do your checks before driving away
There are some key checks recommended before handing over your money to help lessen the risk of ending up with a lemon.
You can go through a dealer or a private sale, but for preowned cars, you may be more comfortable purchasing from a dealer as there's more protection and options if things go wrong later on.
A Pre-Purchase Inspection can give you clarity on the condition of the car, so you've got more info to help you decide whether to buy it.
Check that the car isn't stolen or has money owed on it by completing a Vehicle History Report and a motor vehicle search at the Personal Property Secruities Register. If you're happy everything checks out and get the keys, don't forget to get insurance, and let NZTA know the car is now yours!
Need to finance a car?
If you are considering financing a car, check out our secured car loans – easy to apply, quick approval and rates from 10.50%p.a.