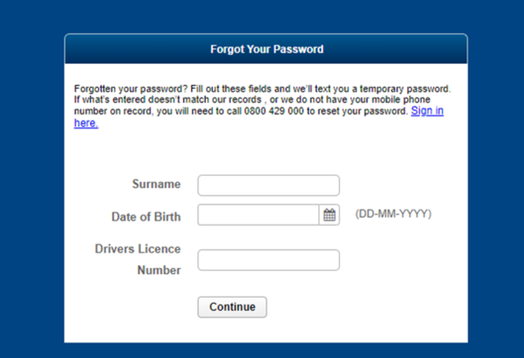 Forgot your password?
With all the passwords we need to remember, it's easy to forget them from time to time. That's why we've made it easy to reset your internet banking password online.
Now, if you happen to forget your password, you can use the 'Forgot your password' link on our internet banking login page.
You'll need to provide your surname, date of birth, as well as your Drivers Licence Number.
If we hold your current cell phone number, you'll receive a text message with a temporary password. This temporary password allows you to log in and create a new password.
To use the online reset, we'll need to hold your:
- Current Drivers Licence Number
- Current cell phone number
If we don't hold these, you will need to call us on 0800 429 000 to reset your password.
When you call, we can update your details so that next time you can reset your password online.
Easy!