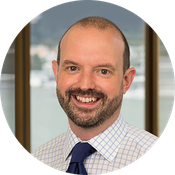 Joe Bishop
Chief Executive Officer
Joe joined the Police Credit Union as Chief Executive in April 2020.
Originally from the UK, Joe has over 20 years of experience in financial services in London and Wellington. Prior to joining PCU, he was Chief Customer Officer at Kiwi Wealth having spent 8 years leading all aspects of their retail proposition development, distribution, innovation, product and marketing.
Joe is passionate about using digital delivery to build customer engagement, satisfaction and financial capability.